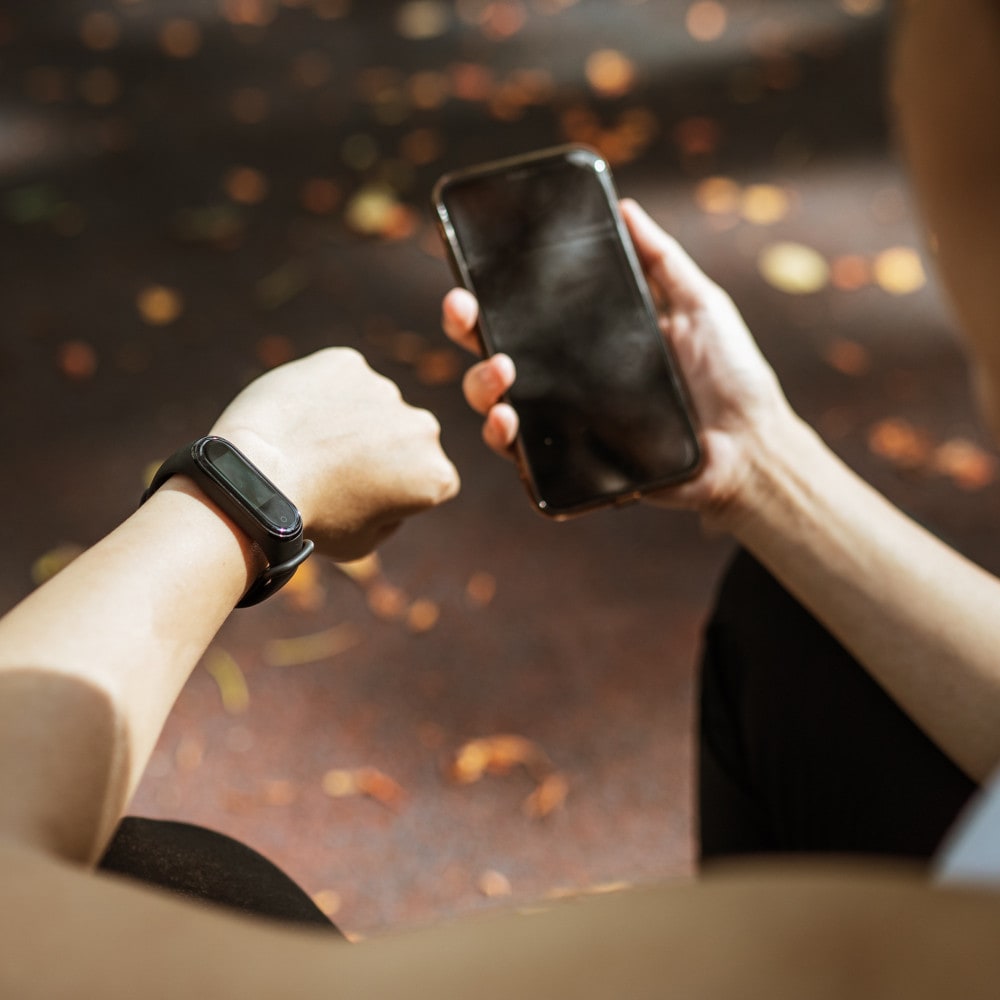 Digital Wellness Preview: lockdowns give 'self-care' apps a boost
The wellbeing services space was already in line to be the next sector disrupted by technology, with ever more sophisticated smartphones and wearable devices being developed. Then came COVID-19.
Lockdowns and social-distancing measures are driving more people to take on technology that can help them stay sane and healthy in a remote fashion, being it via "self-care" apps offering personalised exercises or more complex treatments such as nutrition and sexual wellness.
Since the beginning of the pandemic, fitness companies wary of this trend have extended free trials for their online and app-based classes and saw downloads and new sign-ups grew between 80% and more than 250% in recent months, a McKinsey report indicates.
These tools are also getting a boost from employers looking for ways to care for the wellness of their staff in a remote way. Supermarket chain Tesco, as part of its response to COVID-19, gave its 300,000 UK employees free access to meditation app Headspace and mental health platform SilverCloud for 12 months.
Start-ups developing workplace-focused wellbeing apps, like Wellness Coach, are popping up, looking to tap into this trend. (See below for more details on companies' growth plans.)
Investors could be attracted by the capital light and high growth elements of this space. Some of its niches are already showing a level of maturity, with larger fundraising rounds and acquisition by strategic players taking place.
Among these are Headspace, which secured a USD 47.7m investment last month bringing its total equity raised to more than USD 215m, and home fitness start-up Mirror, which was sold for USD 500m to Lululemon [NASDAQ:LULU]. As much as helping it dip its toes in the remote exercise space, the deal seems to be part of the efforts by the Canadian company best known for its yoga pants to build on its vision to "become a fully experiential brand that creates compelling experiences for guests who want to completely live into the sweatlife."
Other niches, like sexual and sleep wellness, are yet to see more prominent companies emerge. These could eventually be the targets of strategic players from the offline world, or become part of larger platforms offering the whole package of mind and body wellness services in one place.
Either way, the incentives for more M&A will certainly be there in a post-pandemic, more social-distanced world where a sweatlife will still be possible – if not at the gym, maybe in your living room.
by Barbara Pianese in London

Proprietary Intelligence
Wellness Coach, a Florida-based digital health company, plans to raise USD 8m-12m next year to fuel growth, CEO D Sharma said. The company – whose investors include billionaire Eric Yuan, the CEO and founder of Zoom – will target institutional investors for a minority stake in the company. Wellness Coach offers daily live and on-demand meditation, sleep, music, fitness and financial wellness classes to large organizations. SoftBank Capital is among its minority investors.
Baby2Body, a UK-based wellbeing app, is in talks to raise GBP 4m-5m in a Series A round expected to close in September, CEO and founder Melinda Nicci said. The fundraise would be in exchange for a minority stake in the business. The company has hired Investec as its financial advisor. Baby2Body's ideal investors would be venture capital funds with an understanding of the consumer and health space. It has received interest from US funds as well. The business generated GBP 1m in turnover last year and expects GBP 2.4m in annual recurring revenue in 2020.
FitnessAI, a New York City-based workout app, is likely to raise its next round of capital within six to 12 months, CEO Jake Mor said. The start-up garnered a USD 15m post-money valuation in late April when it raised USD 1.5m in a simple agreement for future equity (SAFE). That financing brought the total outside capital raised to USD 1.65m since its inception roughly 18 months ago. FitnessAI has yet to determine exactly how much money it will seek in its next capital raise, though it will be more than USD 5m. The company also may consider a combination of equity and debt. FitnessAI for iPhone uses AI to generate personalized on-demand workouts.
Fitplan, a mobile fitness app whose backers include former professional baseball player Alex "A-Rod" Rodriguez, is mulling whether to become a buyer or seller, said CEO Landon Hamilton. The VC-backed company – which is dual headquartered in Vancouver and Los Angeles – is evaluating a possible sale after being approached by several strategic players in the digital and connected fitness spaces. The company could also raise a Series A round of capital, partly to support a rollup of the highly fragmented industry. A decision on which route to take will likely be reached later this year. In a capital raise scenario, Fitplan would seek USD 8m-10m. To date, the company has raised a total of USD 14m, most recently closing a USD 4.5m venture round in September. Fitplan is projecting annual recurring revenue of USD 10m in 2020, compared to USD 7m in 2019. The business should be cash-flow positive within the next few months.
Breethe, a Canada-based inner wellness and meditation app, has retained investment bank Piper Sandler to explore M&A options, including a possible sale, CEO Garner Bornstein said. The company, which has not yet raised equity form external sources, is interested in either an acquisition or a minority stake investment, he said, noting it hopes to close on a deal by the end of the year. Its four co-founders prefer to remain in their leadership roles to continue growing the company, as it aims to overtake its larger competitors, Calm.com and Headspace, as the No. 1 and No. 2 "inner wellness" app. Breethe is the No. 3 app in terms of size, according to Bornstein, but it is far smaller than its marketplace leaders. In the event of a capital raise, it could look to secure between USD 20m-50m, he said, noting those details have not yet been decided.
GYMGUYZ, a global mobile personal training franchise, is in talks with investors about a potential minority stake sale, CEO and sole owner Josh York said. The New York-based company ideally would cede a minority stake in the business for USD 10m-15m. GYMGUYZ is not in an active process but has been entertaining inbound approaches and has a few non-disclosure agreements in place, according to York. Proceeds would help accelerate domestic and international growth for GYMGUYZ and allow York to take some chips off the table. GYMGUYZ is nearing 300 franchises in the US (in 31 states), Canada and more recently the UK, where it currently has eight locations.
Talkspace, a digital behavioral health company, aims to make its first acquisition this year and will likely raise a sizable Series E to fund inorganic growth in the coming year, said Mark Hirschhorn, president, CFO and COO. The New York City-based company hired industry veteran Hirschhorn in February to lead strategic development initiatives, including M&A. Acquisitions will help the company penetrate additional areas in healthcare and broaden its customer base. To fund M&A, Talkspace is eyeing another capital infusion in the coming year. The company has raised USD 110m to date. Talkspace will generate more than USD 100m in revenue going into next year and will likely double revenues the next two years. The company is not yet profitable.
Yoga International (14/05/2020)
Yoga International, a provider of digital yoga and other wellness services and related content, has experienced delays with its strategic review process due to COVID-19, CEO Todd Wolfenberg said. The Pennsylvania-based company, with USD 10.1m in annual revenue, hired Lincoln International to consider options around October. Wolfenberg said Yoga has received investment and capital raise proposals from PE firms. Given the current crisis, however, the business is taking more time to weigh options. Wolfenberg added that one possible plan is to raise capital over the next 12- 24 months, to fuel organic product and marketing growth as well as potential acquisitions.
Lover, a San Francisco, US-based sexual wellness app, could raise a Series A of more than USD 5m by year-end, co-founder and Chief Medical Officer Nick Pendle said. The Series A will likely start towards end of the year, assuming things have returned to normal by then, although the company has a cash runway beyond that point. The company expects to reach more than USD 1m revenue by end of 2021. In February, it raised a USD 5m in a seed round led by VC firm Lerer Hippeau. US-based online men's health companies Roman and Hims, which was valued at USD 1bn in a fundraising round last year, have proven sexual wellness is a "fascinating" category for investors, he said.
Unmind, a UK-based workplace mental health platform, expects to raise a Series B within two years, co-founder and Chief Executive Nick Taylor said. While the company is yet to decide the exact size of the round and of the stake offered, Taylor said it will seek to raise a larger amount than that of its USD 10m Series A announced in March. Unmind will use the proceeds to fund product development and international growth in North America or other English-speaking countries, as well as to expand its commercial team.
Join our community
Deals+ is a global network of M&A transaction professionals offering you access to exclusive events, networking and research. Join the community for free to enjoy the below benefits:
perm_contact_calendar 

Priority invitations to virtual and hybrid events

play_arrow 

Latest trend reports and market research

email

Regular newsletter on the people shaping global M&A markets
Sign up
An error occurred trying to play the stream. Please reload the page and try again.
Close